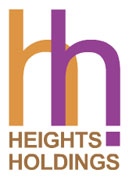 Heights Holdings is one of the leading luxury condominium developers on ThailandТs Eastern Seaboard. Since the company launched in 2006, we have strived to develop a brand signifying high quality, exceptional service and superior value by focusing on the following key areas:

* Delivering the highest standard of building quality in all developments

* Listening to clientsТ needs and providing customer-centric services throughout the organisation

* Achieving a consistently high rate-of-return for investors

The core activities of Heights Holdings centre around the development of 5-star residential condominiums in highly desirable locations. Having undertaken eight major projects in the much-desired locales of Pratumnak and Wong Amat, Pattaya, the company has cemented its leading position amongst the pre-eminent condominium developers in the region. The Heights Holdings brand is now synonymous with luxurious and affordable housing in Pattaya.


Heights Holdings - Pattaya - Send Request